September 24
Left Brulooze early this morning and marched to Hazebrouck about 12 miles. Many men fell out but none of ours. Fine weather and quite warm. Stayed there the night. Had a nice bed. Passed Bailleul.
September 25
Started about 9:00 a.m. and marched to Arques about 10 miles. Arrived about 4:00 p.m. Good billets. Dinner at Hotel St. Catherine. Slept till about 11:00 a.m. next day.
September 26
Started from Arques at 2:00 p.m. next day and marched to Houlle passing St Omer and Moulle. Arrived about 6:00 (?) p.m. Inspected by Corps Commander on the way. We did not have a man fall out in the three days march. Only unit in the Brigade with that boast. Leighton and Pedley billeted at one farm and Longworth, Wray and myself at another. Quite close. Very comfortable indeed and a good bed.
September 27
Remained in billets at Houlle and did very little but rest.
September 28
Stayed at Houlle. Went out for all day manoeuvres at training ground (maybe the parc foret d'Eperlecques near Houle), starting about 7:00 a.m. and returning at about 3:00 p.m. It was about a four mile walk. Practiced supporting infantry attack in waves. Aeroplane assisted in manoeuvres.
September 29
Remained in billets and did a little physical training and bayonet fighting. Did a little shooting in the afternoon.
October 1
Remained at Houlle. Battery went out on night manoeuvres but I did not go. Otherwise did not do much.
October 2
Rested most of the day in billets as men had been up pretty late the night before.
October 3
Started for Arques to entrain, leaving about 6:30 a.m. and entraining at 1:00 p.m. Started about 1:30 p.m. and went by way of Calais and Boulogne and arrived at Candas about midnight and detrained there. Everything done in a very orderly way.
Candas and the other places mentioned in diary entries for the next few days (Beauval, Bonneville Toutencourt, Warloy, Rubenpre and Albert) are all in France north and north-east of the city of Amiens and north of the Somme river.
October 4
Left Candas at about 2:30 a.m. and marched to Beauval where we billeted for the night arriving about 4:30 a.m. Remained there for the rest of the day and slept there that night.
October 5
Started our march about 9:00 a.m. to go to Bonneville, arriving about midday (about 5 miles). Billeted there that night, some in an estaminet (petit café populaire) and others in a house next door.
October 6
Remained at Bonneville that day and went a little way outside the town, did some training, and had lunch out in the fields. In evening went around with Leighton to Brigade headquarters and also to 92nd Battalion headquarters.
October 7
Moved from Bonneville to Toutencourt (were to go to Rubenpre but this was changed). It was about a 10 mile march. Left about 8:30 a.m. and arrived about 3:00 p.m. Billeted in huts at the top of a hill. Saw Major Brown of 73rd for a few minutes. Also managed to get a haircut.
John Hector Innes Brown was a 42-year-old cost accountant from St Johns, Quebec. In May 1917, he was appointed to the Distinguished Service Order for gallantry with a citation written into his service record. He survived the war but committed suicide in 1927 in New York City, where he had been working as a night watchman. An article in the New York Times reports that after the police discovered his past service, he was buried with full military honours. (Service record, Library and Archives Canada.)
October 8
Started about 9:00 a.m. to march to Warloy. Pouring rain. Tried a short cut across a field and had to carry our carts across a ditch about 6 feet deep. Rained all morning. Arrived at Warloy about 2:00 p.m. Went over to the next village in the afternoon on a bicycle and saw some of the 87th for the first time since arriving in France.
October 9
Remained at Warloy. Saw F. Hale for a few minutes in the morning. Went over on a bicycle and saw Jim (Williams) and (Jack) Wallace in the afternoon.
October 10
Still at Warloy. Saw 87th pass through on their way up towards the line. Had a bath in the afternoon.
October 11
Still at Warloy. Went out and did some manoeuvres with the 78th. Rest of the day did nothing.
October 12
Captain Leighton went up to look over the line and Pedley to look for billets. We marched at 9:00 a.m. and arrived at Tara Hill just outside of Albert about 1:00 p.m. Only 4 miles but held up by traffic. Road simply crowded with motor lorries, ambulances and troops. 87th camped quite close. Went up and saw them. Also saw Canon Scott and had dinner with him and Harry (Scott) and Errol Hall.
Tara Hill is shown on military maps, west of a line between La Boiselle and Becourt, just south of the Albert/Bapaume road.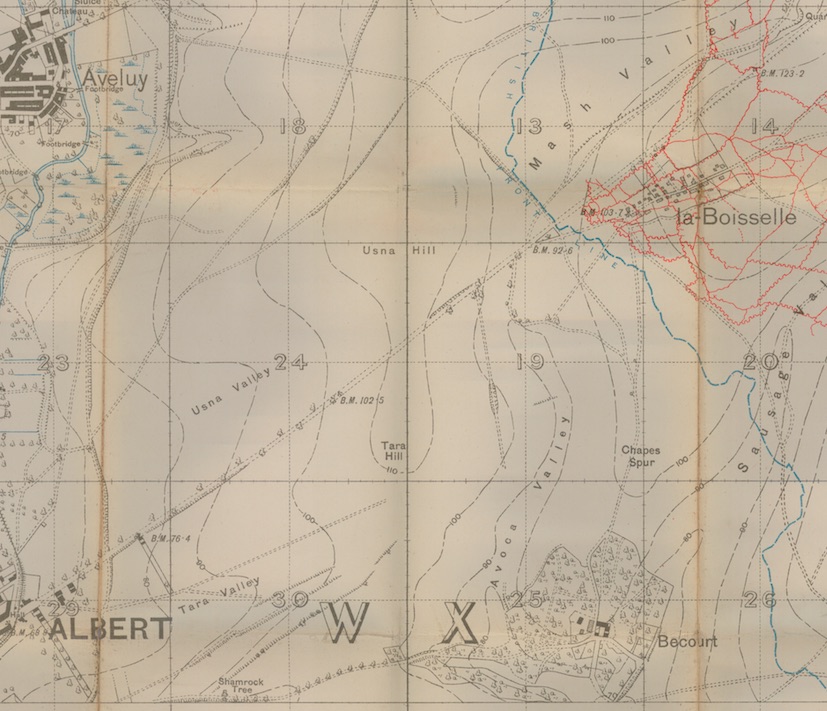 Canon Frederick George Scott was the chief chaplain of the Canadian forces at the time. There are references to him in many books about the Canadian army in World War I. He was very popular with the troops and always close to the fighting. In one incident, he was so close to the fighting that he accepted the surrender of a group of German soldiers. He carried a Union Jack which he used as an altar cloth at communion services in the trenches. This flag is preserved in the old St. Matthew's church in Quebec where he was Rector.
Henry Hutton Scott, a 26-year-old lawyer from Drummondville, Quebec, was Canon Scott's son. He would be killed in action on October 21, 1916 (as mentioned in the entry for October 22, 1916). (Service record, Library and Archives Canada.)
Errol Victor Hall was a 29-year-old bank clerk born in Montmorency Falls, Quebec. He would be wounded on November 19, 1916 (as mentioned in the entry for that date). He later served in Siberia, where he was eventually appointed secretary to the High Commissioner of Britain. (Service record, Library and Archives Canada.)
October 13
Still at Tara Hill. I spent the afternoon with 87th. Went to dinner with Jim (Williams) and Canon Scott in Albert. Saw Ike Robertson in the evening.
October 14
Had inspections of men in the morning. In the afternoon went up with Pedley to see the line. Walked up past La Boiselle and Pozieres (towns about 3 and 6 miles north east of Albert on the main road). Ground literally churned up by shells. After passing Pozieres, the artillery started to put on a show and things got pretty warm. We stopped just outside of Courcelette (about another mile up the road) and stayed there for a time. The trenches there are full of dead and unburied. Mostly German but some of our men also. Saw one of the famous tanks. No one can realize the amount of artillery massed here. The guns are almost touching each other and practically right out in the open.
Tanks were first used in the battle of the Somme, with disappointing results.
The quantity of British artillery overwhelmed German counter battery artillery and therefore it did not need to be hidden. At the time, German artillery was concentrated at Verdun where the most terrible battle of World War I was ongoing. The German infantry position on the Somme battlefield proved strong enough to withstand the British attack without massive artillery support.
October 15
Started about 10:00 a.m. to go billeting, to meet Brigade Major just outside Contalmaison. Went with Stronget (?). Place just a heap of ruins. All the billeting officers met at the same place but no staff officer turned up. Came back in a motor lorry to Albert and walked back to our bivouacs on Tara Hill. Went to brigade church service. Then tried out our guns fitted with the Forless (?) adjustor. Went over to the 87th lines but no one was in. Day cloudy and fairly cold. Heavy artillery bombardment tonight, lasted all night.
A bivouac is a temporary open encampment usually in tents.
October 16
Fine and cold. Did some shooting practice morning and afternoon. Went up to 87th line about 4:30 p.m. Some of Fritz's planes came over very high. Ours went up but could not catch them. But our antiaircraft guns brought one down. First I have seen brought down on either side. Ike Robertson called and asked me out to dinner and we had a very nice evening talking over old Quebec. No letters.
October 17
Still at Tara Hill. Little drill in the morning. In afternoon went to a lecture on employment of Stokes (mortars) in the attack by a Captain Almond. 87th went up to the line this afternoon. Rained hard all night and our shelter was more or less flooded out.
October 18
Fine and cold. Still at the same place. Went to conference at Headquarters on use of Stokes (mortars) with bombs (artillery?) and machine guns (Lewis) (a light machine gun). Lunch at caf in Albert. Rest of afternoon reading and writing letters. None from Katie today. Artillery active this evening.
Bombers and bombs are World War I slang terms for artillery.
October 19
Rained hard last night and still going strong this a.m. We were fairly well flooded out. Built a new shelter but it was awfully cold all day and muddy as the devil, everything plastered with it.
October 20
Cold and fine all day. Still at same spot. Our new shack not very wind proof. Two letters from Katie. Had a work out with our guns co-operating with bombers (artillery) and Lewis guns. Turned in early. Harry Hall had lunch with us. He had just come out of the line. Fritz drops an odd shell around here but so far none really close. Our artillery at it all the time. Very heavy bombardment last evening and kept up most of the night.
Henry Forsyth Hall was a 20-year-old bank clerk from Quebec. He would be promoted to major and awarded the Military Cross with a citation written into his service record. (Service record, Library and Archives Canada.)
October 21
Same place still. Clear and very cold. Heavy frost last night. Parade in the morning. Regina trench taken this morning and quite a few hundred prisoners passed through our camp. Part of the 4th division were in it. Very cold at night.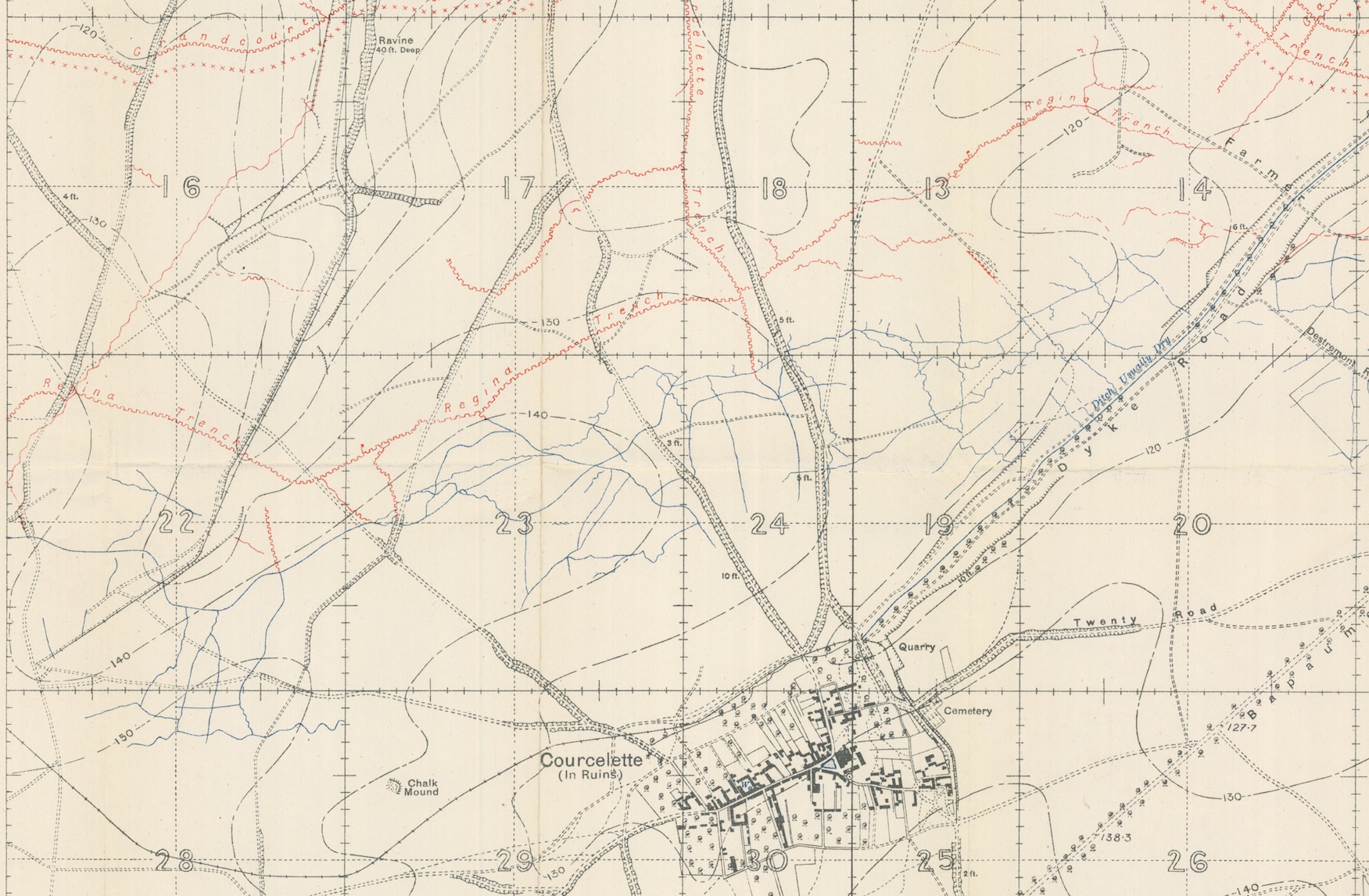 October 22
Sunday. Church service in the morning. Got orders to be ready to be moved up to the line at half hour's notice. Later cancelled. Made a new shelter. More comfortable. 87th were in the attack. It was successful. Rumours that casualties were heavy but have not heard definitely. Weather fine and a little warmer. Heard Harry Scott killed. Captain Bickerdike and N. Mowat wounded. Not confirmed yet. Had a parade with inspection of all our men preparatory to going to the trenches but order cancelled and still here tonight. Very comfortable in our new shelter. Letter from Katie with enclosures from mother and father.
Henry Hutton Scott was the son of Canon Scott.
Canon F.G. Scott's book, "The Great War as I Saw It" (published by Goodchild, Toronto, 1922), includes the following description of finding his son's body which had been buried where he had been killed on the battlefield:
I had brought a little sketch with me which showed the shell hole where it was supposed the body had been buried. The previous night a cross had been placed there by a corporal of the battalion before it left the front line. No one I spoke to, however, could tell me the exact map location of the place where it stood. I was determined not to be baffled in my search, and told the runner who was with me that if I stayed there six months I was not going to leave before I found that grave. Suddenly the runner pointed far away to a lonely white cross. At once we made our way to it. When I read my son's name I new I had reached my objective. As the corporal who had placed the cross had not been quite sure that it was actually on the place of burial, I got the runner to dig the ground in front of it. He discovered nothing but a large piece of a shell. Then I got him to try another place, and still we found nothing. I tried once again, and after he had dug a little he came upon something white. It was my son's left hand, with his signet ring on it. They had removed his identification disc, revolver and pocket book, so the signet ring was the only thing which could have led to his identification. It was really quite miraculous that we should have made the discovery. I read the burial service, then took off the ring.
Robert Bickerdike was a 47-year-old civil engineer from Montreal. He would be wounded a second time, awarded the DSO and bar, and appointed commanding officer of the 87th Battalion. (Service record, Library and Archives Canada.)
Norman McLeod Mowat, a 27-year-old real estate broker from Montreal, would later be wounded a second time. (Service record, Library and Archives Canada.)
October 23
Fine and warm. Still at same place, Tara Hill. Afternoon went with Captain Leighton to Contalmaison to 11th Brigade Trench Mortars. Heard about the attack. Saw Charlie Armstrong on the way home. 87th were due to come out of the line in the evening. (Harry) Scott and Carol killed. E. Scott, Mowat and Bickerdike and several others wounded. Had quite a game of poker in our shelter in the evening. No letters today.
Carol was Horace Yeomans Carroll. Scott may have been Elton Scott, another of Cannon F.G. Scott's sons.
Charles Miller Armstrong was from Ottawa and 24 years old. He would be mentioned in despatches and awarded the Military Cross. (Service record, Library and Archives Canada.)
October 24
Still at Tara Hill. Raining and cold. Did practically nothing all day. Fritz dropped a few shells fairly close this morning, almost on Bapaume Road (route d929). We had to move the front lines. Saw Jack Wallace who came in during the afternoon. He confirmed report of 87th casualties. Nearly 300 all told. Major Lewis wounded, not seriously.
Moving the front lines meant digging trenches across no man's land to connect a section of captured enemy trench with the friendly trench network.
John Simon Lewis was a 41-year-old writer from Montreal. He would be killed in action on November 16, 1916 (as mentioned in the entry for that date). (Service record, Library and Archives Canada.)
October 25
Raining and cold. Went into Albert in morning and had a bath, about time too. Enemy did a little shelling behind us. Evidently a very big gun. Got several packages and a letter from Kate. Saw Charlie Armstrong for a few minutes. 87th went back into the line tonight. J. Wallace with them. 11th brigade transport wanted to turn our men out of their dugouts claiming they were theirs but they are still there and I think will stay. No orders regarding a move yet. Since building our new shelter we have been very comfortable and warm and sleep fine.
October 26
Left Tara Hill and moved up to a place east of Pozieres. Had a hard time getting push carts in as mud was terrible and did not get in till dark. Slept night in dugout belonging to 11th brigade Trench Mortars. Mud about a foot deep everywhere.
October 27
Longworth and I left for the line with about 28 men to take over from 11th Brigade. Left about 6:30 a.m. and went straight into the line with 14 men at Regina trench. Went over the whole area with 11th Brigade officer. Heavily shelled during afternoon and Corporal Grindley wounded, not seriously I think. Spent whole day and night in front line Regina trench.
October 28
Spent whole previous night in line. No sleep or shelter and darn cold. About daybreak Hun shelled us heavily again. Had a hard time to find our two guns on left located in shell holes. Relieved by Longworth and another crew about 8:00 a.m. and returned to Death Valley, to headquarters. Turned in about 6:00 p.m. About 11:00 p.m. rumours that Regina Trench had been recaptured by Germans and we had to stand to. Proved not to be correct. Longworth came down to report about 2:00 a.m.
October 29
Longworth so fagged out when he came back that I went back in his place. Pitch dark and raining and had a deuce of a time getting up there. Poured rain all rest of night and I was relieved by Pedley at about 9:00 a.m. Came back to Headquarters near Pozieres. Had a deuce of a time getting here. Shelled all the way and had quite a time finding the place. Wrote some letters and turned in for the night about 6:00 p.m. Had a pretty good night's sleep.
October 30
Got up about 9:00 a.m. and had breakfast. Raining and cold. Nothing doing today. Got several letters from Kate and also from Canada. Due to go back to trenches tomorrow morning. Rained hard in the afternoon and our shelter supported by sand bags fell in and we had to get out and rebuild it again but we are fairly well fixed up now. Have to leave for Regina Trench tomorrow morning at 6:30 a.m. Just sent off letter to Kate.
October 31
Left about 7:00 a.m. for Regina Trench. I went right up and Longworth remained in Death Valley at Headquarters. Wray had been buried by a shell and had returned to Headquarters. When I got there our artillery was very active and our planes were up all day. Fritz did nothing till evening and then shelled us heavily for an hour or so. Pretty quiet during the night except about 2:00 a.m. when he again shelled us heavily for about half an hour. Rained the previous night and trenches over your knees in mud and water. Communication trenches impassable. Had to go overland right up to front line.
Communication trenches connected and were at right angles to the fighting trenches.
November 1
Relieved by Longworth about 7:00 a.m. and returned to Headquarters overland. Slept most of the morning. Had no sleep at all last night. Issued rum to the men and a big shell nearly got the whole lot of us. Closest shave I have had for a long time. Slept fairly well during the night. Pretty hot time in Regina Trench. Enemy shelled it heavily particularly during the night. Quite a number of casualties among our infantry.
Service ration rum was 150 proof, in brown earthenware jugs marked SRD for Service Rum Distilled, nickname, Seldom Reaches Destination.
November 2
Relieved by Pedley this morning and Longworth and I came out. Raining hard and mud and water everywhere. Arrived at billets about 11:00 a.m. Shelled very little by the Huns on the way. Spent rest of day resting and had a good sleep that night.
November
(?)
Page torn out
Nearly all have abandoned the place as up till lately it was shelled quite a bit and even still once in a while.
November 6
Rained again last night but not very much. Still at Bouzincourt and not much doing. Managed to get a bath today which makes it quite a red letter day. First one for nearly a month.
November 7
Still at Bouzincourt. Last evening had a little game of poker at which I had not much success. As the game was drawing to an end a Fritz plane came over and dropped quite a few bombs. They were not very close but shook up our old home pretty well as it is fairly rickety. Today it is raining and a very cold wind is blowing. We were to go out to manoeuvres but they were called off on account of the weather. Had an inspection of men's equipment this afternoon. No mail today and a rumour there won't be any for a couple of days on account of submarines. Raining fairly hard this afternoon and cold. Germans threw a few shells over this evening but they were going over our heads and bursting some distance beyond. I should think near Millencourt. They were evidently heavy ones.
November 8
Raining again this morning and practice attack had to be put off. Still at Bouzincourt. Parade this afternoon chiefly for instruction of new attached men. A little finer this afternoon. Our artillery seemed pretty active back here. Heard yesterday that Bert Todd had been killed. 10th and 11th Brigades have been to the line since we came out. We held a double brigade frontage when we were in but were not in so long as the others.
November 9
Very fine morning. Went out on field manoeuvres. Saw several hares and a couple of coveys of partridges. Made me feel I would like to be in Canada for the autumn shooting. Complaint about billets from one of the Imperial puppies. Parade again this afternoon to instruct the attached men. Fine and clear all day. All sorts of aeroplanes about. Our artillery sounded fairly active but it is some distance away.
November 10
A little game of poker last night. Early this morning there was some very heavy artillery work. Today is fine and clear again. We are still at Bouzincourt and no orders as to a move yet. Orders this afternoon that our Brigade relieves the 10th and 11th. Half our battery goes up to X11C to be ready to go in but not certain that we will go in as the ground is very unfavourable for our guns. We march out at 8:15 a.m. tomorrow. The 10th Brigade are due to put on a little show tonight and take the Quadrilateral. All day and tonight is fine and cool.
"X11C" is a grid square visible on the map for the next entry (November 11).
"The Quadrilateral" is the code name of a location, likely an area enclosed by the intersection of two pairs of two parallel trenches north-west of Le Sars.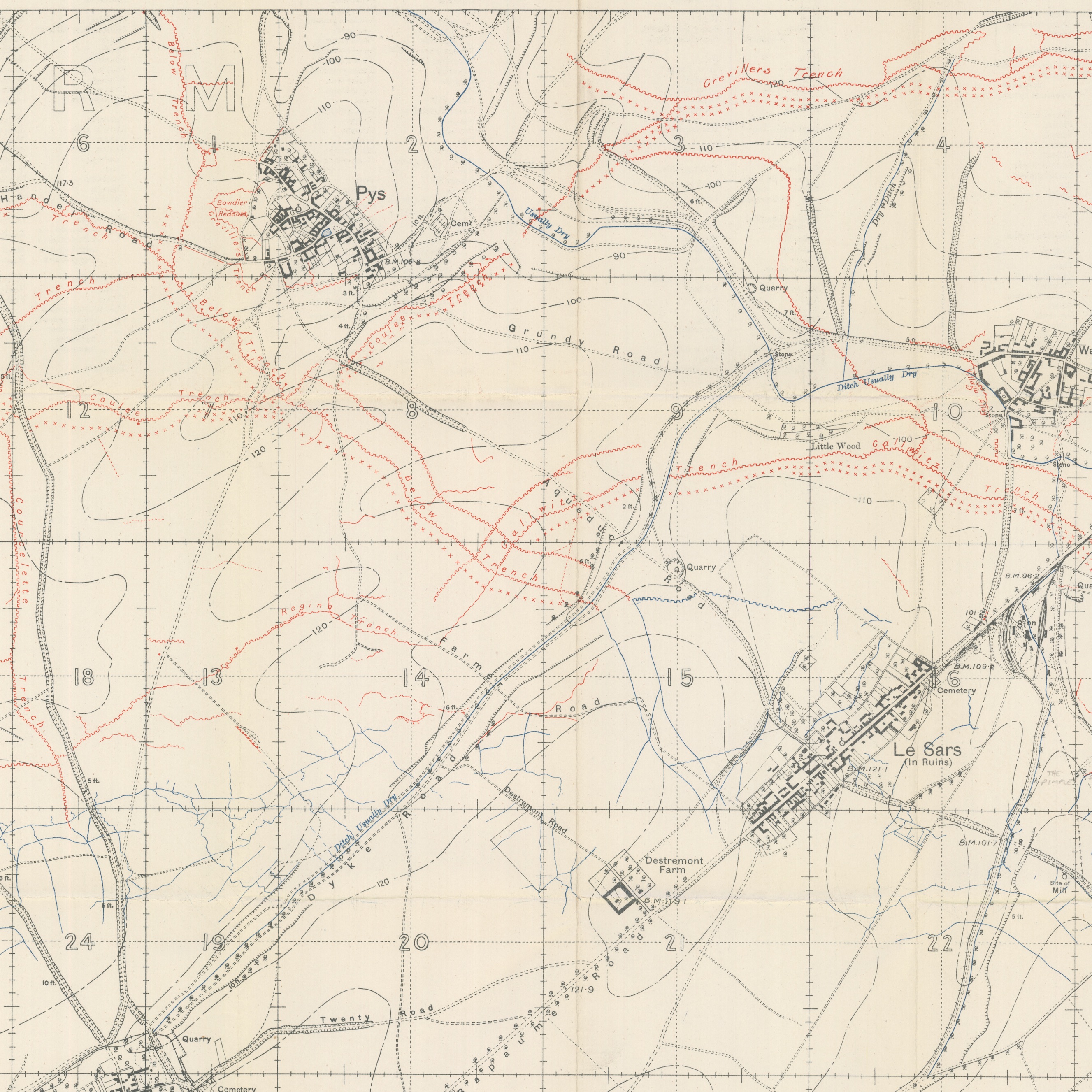 November 11
Left Bouzincourt about 9 a.m. Marched to Tara Hill and then to X9C. Had lunch there and Longworth and I and half of the battery went up to the line, I going right up to the front line. Arrived about 5:00 p.m. Took over from 11th Brigade. No officer in the line and no ammunition at guns. Fixed things up. Fairly heavy enemy shelling.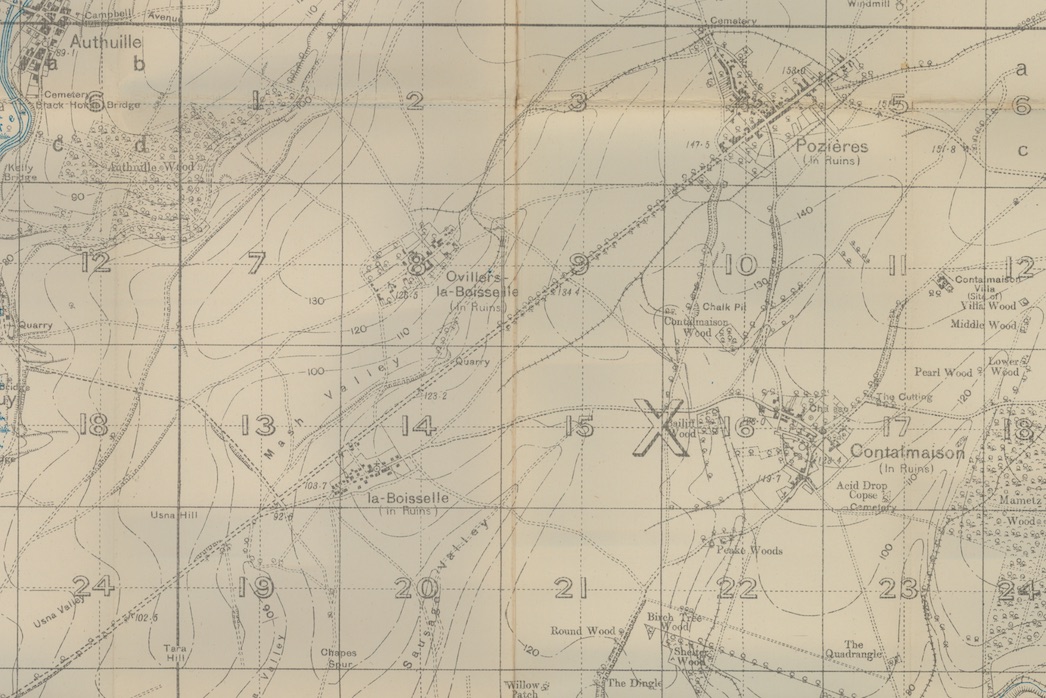 November 12
Our artillery very active about 5:30 a.m. and enemy retaliated a little later. Night fine and not too cold. Relieved by Longworth at noon. Returned to Headquarters dugout. Trenches still very muddy and have to go overland mostly. Captain Leighton came up in the afternoon and went up to the front line but could not find Longworth as they had moved on their own. Artillery was shelling the area very close to them and all infantry had been removed.
November 13
Slept well in dugout last night. Supposed to be relieved by 11 brigade tonight but orders came for 72nd to attack and capture Desire Trench and we were to co-operate on the right with our guns. Moved another gun up there and got everything fixed up and relieved Longworth at noon. Later in the afternoon orders came cancelling the attack and relief by 11th Brigade on. We were relieved about 7:00 p.m. and had to take our two guns out in dark and overland. Got over to dry road and met Longworth. Came up to Bapaume road by the Linked (?) Road. Men so tired that Long and I had to give a hand carrying guns. Got cart at head of sunken road and started for X11C. Arrived about 10:00 p.m. Everyone nearly dead tired. Luckily we were hardly shelled at all coming out. There was quite a big attack by Imperials on our left and quite a number of prisoners were taken.
November 14
Spent day in billets at X11C. Day overcast but not raining. Our artillery active all day and making a deuce of a row all around us. Spent most of the day writing letters. Making up for three days in the trenches. Fritz threw over some tear shells (a shell containing a type of poison gas) this p.m.
November 15
Very cold last night. Did not feel any too well. Thought I was going to have grip but feel better this morning. Have been troubled with my knee think it must be rheumatism. Today fine and cold. No orders for a move as yet. Supposed to be a big attack this a.m. but don't think it came off. Hun threw over a lot of tear shell during the day, quite close to us. Awfully cold. Men were nearly frozen out in our wooden shack. Have been suffering a little from tooth ache today. All the rest of the Brigade moved to Bouzincourt today. We got no orders. Don't know if we were forgotten or not.
November 16
Cold and fine. Quite hard frost last night. Had a bit of a tooth ache and felt pretty rotten generally. Went into Albert with Longworth and saw a military dentist who fixed me up alright. Had lunch in town and quite a good one too. Walked in and out. Still at X9C and no orders yet for a move. 78th came in here tonight and some officers are coming into our hut.
November 17
Clear and very cold. Hard frost last night. Enemy plane over our camp early this morning. Our anti-aircraft guns quite busy for a time but did not bring any down as far as we could see. Saw one of our 12 inch howitzers working today under aeroplane observation with connection by Marconi (radio). Firing at large dumps 8 miles behind German lines. Still in billets and nothing doing. Our artillery fairly active. The 78th officers in our hut had to turn out about 11:00 p.m. as battalion was going up to the line.
November 18
Snowed last night and ground quite white with it this a.m. Now raining but still quite cold. About 6 a.m. this morning very heavy barrage by our artillery, we hear that our men went over the top (climbed out of the trenches and charged across no-man's-land). 87th, 38th and some other battalions of 10th and 11th brigades. Have seen quite a few hundred prisoners going down the road and we understand all the objectives were taken. Don't know whether we will be used or not as ground and weather very unfavorable for our guns. (Mortars could not fire accurately in high wind or if mounted on soggy ground.) 72nd and 73rd moving up here from Bouzincourt tonight. 6 or 7 officers of 73rd were put into our hut and we had quite a disturbed night.
This entry refers to the Battle of Ancre (13th-19th November 1916). The 87th Battalion advanced from the British front line (called Regina trench) across the German front line (called Desire trench) to Desire support trench. This action was considered a success.
November 19
Rained hard all last night and still looks like more this a.m. Brigade informed Captain Leighton that our guns were not to be used this trip in as the weather has made the ground too soft for them. 87th went over yesterday. Major J. Lewis, Major Hall and Jim Williams killed. Some wounded including Errol Hall. Casualties pretty heavy. Our men are going up to the front under Wray, as a carrying party tonight (probably to deliver ammunition or other supplies). 38th also got it pretty hot yesterday. Went over to X11A to try and find some of 87th to find out about Jim and walked all over the country. Afraid there is no doubt about it. Practically nothing left of the original old 87th now. Only 9 officers and 5 of these in H.Q.
The fallen mentioned by name are John Simon Lewis, Franklin Edward Hall, and James William Williams.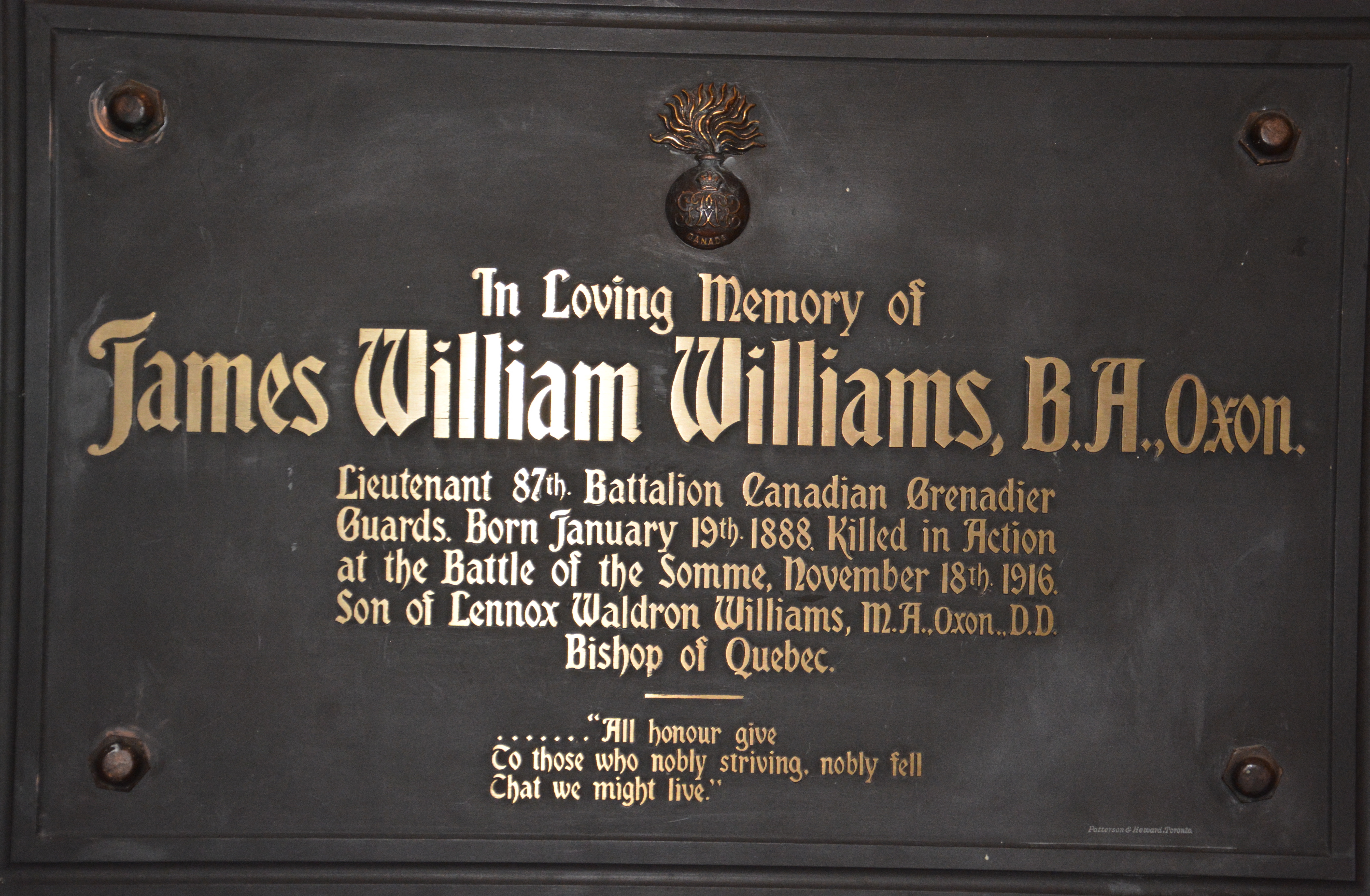 Jim Williams was Pop's best friend. As teenagers, they spent the summers together, half the summer at Jim Williams' family's summer house in Tadoussac and the other half in Saint-Patrice. Pop had a plaque commemorating Jim Williams mounted in the Cathedral of the Holy Trinity in Quebec City. Whenever the Thomson family went to church, they sat in the pew opposite this plaque. In memory of his son, Jim Williams' father, who was the Anglican bishop of Quebec, always invited the Thomson family to Christmas dinner.
Jack Wallace, whom Pop mentions quite often, was or became Bishop Williams' son in law. He and his family were also always invited to the Williams' Christmas dinner.
November 20
No doubt about Jim and the others. Saw several 87th officers and heard all they knew. Orderly officer today. Muster parade this a.m. and another carrying party tonight under Pedley. Weather fine and quite a bit warmer. Nothing out of the ordinary today. Great deal of aircraft activity and one aerial fight right over our camp but Fritz made off. Did not seem to be too much artillery work and no shelling near our camp. Pamphlet on regulations regarding leave received and everyone much excited as to when it is going to start.
The orderly officer represented the commanding officer when he was unavailable or asleep, making more or less minor decisions.
November 21
Did not do much. Very foggy but not raining. Went with carrying party to Regina Trench to 78th Battalion. As we were leaving camp there was some very heavy artillery work but things quieted down before we got up to the front. The shelling there was not very bad. Got back to camp about midnight, earlier than we expected. Poor old Jim was buried today at Divisional Headquarters just outside Albert, near Tara Hill.
November 22
Foggy in the morning but later fine and clear. Our artillery was active during the afternoon. Captain Leighton sent to Brigade Headquarters and carrying party for tonight cancelled except for 10 men to 72nd. 87th pulled out for Bouzincourt today, what is left of them. No guns going in tonight but perhaps tomorrow night. Had to move our quarters again we are now in with 72nd officers who are not in the line.
November 23
Fine, clear and cold. Captain Leighton went up to look over the line. Have to put in two guns tomorrow night. Longworth up tonight to build two emplacements with a working party. Casualties in the line remain pretty heavy among the infantry, mostly from shelling. Saw a fifteen inch dud this afternoon. Think the Germans are not heaving this sort of thing over. This must be one of ours. 9.2 howitzers are thick as flies about here and there is a 12 inch just outside our door. Gave the men a rum issue, dropped my ring in the mud and nearly lost it but one of the men found it.
Digging trenches and gun emplacements was always done at night, to avoid attracting enemy artillery or mortar fire.
November 24
Cold this morning and looks like snow or rain. Putting two guns in tonight. Wray went up with the guns and a carrying party for ammunition. Went down and saw old Jim's grave in a little cemetery just beside the Bapaume road about a mile out of Albert. Majors Hall and J. Lewis buried with him. Nothing definite about moving out. All hoping it will be soon. Just got news tonight that we will have to put in two more guns tomorrow night as we are taking over 10th Brigade frontage as well as the one we have at present. Heard tonight officially that we would be relieved on the night of 27-28th by an Imperial Brigade of the 57th Division.
Jim Williams is buried in Bapaume Post Military Cemetery. His epitaph (the same as on the memorial plaque that Pop had made for him) reads "All honour give to those who nobly striving, nobly fell that we might live". (These words are from the first verse of the poem Hail!--And Farewell! by William Arthur Dunkerley.)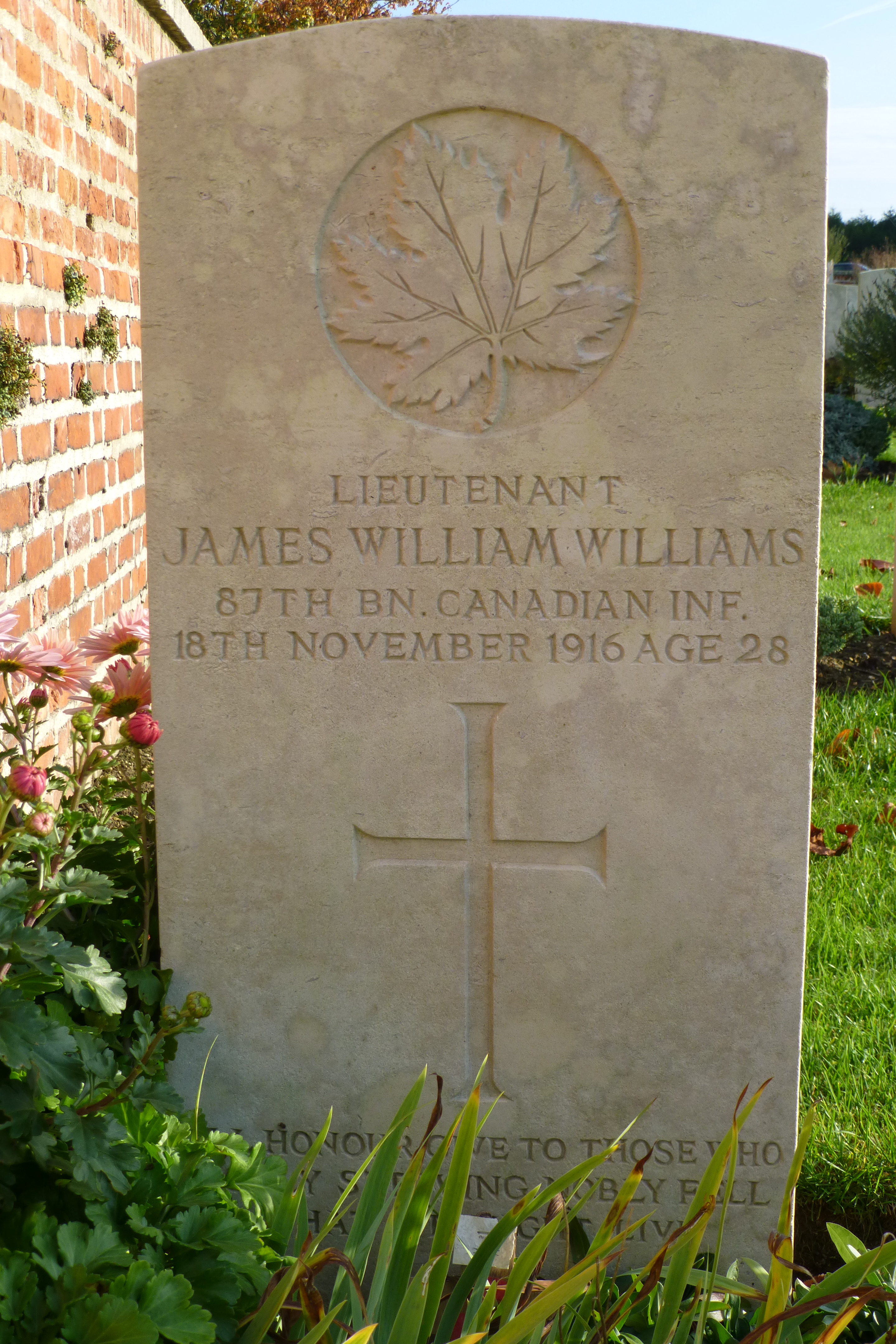 November 25
Captain Leighton went up to the line with officers who are to relieve us. Raining and rotten today. Pedley went in to take over the two guns of the 10th Brigade and I go in early tomorrow to relieve Wray. I should be relieved on Monday by the Imperials. Three letters from Katie today. 72nd come out tonight, 73rd and 78th go in again.
November 26
Started at 6:00 a.m. to relieve Wray. Pouring rain and trenches in an awful mess. Gun pit full of water. Got soaking wet going in. Cleared up and froze hard at night and we were nearly frozen stiff. Germans shelled quite heavily during the afternoon and night, dropping some heavy ones very close. Coldest night I ever put in and most uncomfortable
November 27
Fine day. Relieved by battery of 153rd Brigade of 57th Imperial Division who have just taken Beaumont Hamel. Came out without any shelling and no sniping to any extent. Lost one man the day before yesterday and one man yesterday to snipers. They are pretty bad and the trenches are so bad it is a great temptation to walk on top. Went to bed early in the afternoon as I was pretty well all in.
November 28
Left X9C at 10:30 a.m. and marched to Varennes, about 12 miles. Passed through Aveluy and Hedauville. Billeted part of men in a barn in town and the rest of them and ourselves in a hut in a camp. Mud everywhere and cold and foggy. The worst billets we have struck for some time. Nearly froze last night. Quite a lot of mail lately. I think we have left the Somme for the time being anyway and everyone is tickled to death.
November 29
Stayed in billets all day. About 3:00 p.m. heard that one officer was to go on leave. About 6:00 p.m. heard it was me. Left about 7:30 p.m. and walked to Acheux. Where we were to get a train. Got on board about 10:00 p.m. and got into Candas about 1:00 a.m. Cable from Kate arrived about 4:00 a.m. and I answered it.
November 30
Changed trains at Candas. The other train was 14 hours late and we waited most of the night walking the station platform. Cold as the very devil. One officer and I went scouting and found a mail tent and got in and had an hour or so of sleep and got warmed up at a brazier. Had breakfast at a little cafe (omelette). (two indecipherable words, probably menu items) and had lunch, same thing at same place. Our train arrived about 3:00 p.m. and we finally got to Boulogne about 12:30 a.m. No rooms at the hotel but they got us rooms at a private home. Quite comfortable.
Pop always liked eggs. The first night after liberation from prisoner of war camp in WW2, all of the ex-prisoners were offered their choice of food for dinner. Everyone opted for steak, but Pop said he would prefer bacon and eggs. After changing his mind at the last minute, Pop broke a tooth chewing the steak.
December 1
Down to ferry (?) boat at 9:00 a.m. but did not start till 3:00 p.m. Arrived Folkestone at 4:30 and London about 7:15 p.m. Went straight to Carlton. At first they said that Katie was not there but after some argument found she was.