August 16
When I woke up this a.m. we were at anchor outside le Havre. Had arrived there about 2 a.m. Did not go into dock till 10 a.m. and then did not tie up till noon. Disembarked and at once went to ordnance (military supplies). (Had dinner on the side of road first). Spent most of afternoon drawing stuff from ordnance. Then marched two miles to Dock Rest Camp No. 5. Rained slightly during evening.
August 17
Entrained for up country at 1:00 p.m. actually leaving about 4:00 p.m.
August 18
Spent a very poor night on train arriving at Poperinge (a town in south west Belgium near Ypres) about 4:00 p.m. Came by way of Amiens, Boulogne and Calais. Very round about way. Went into billets with 12th Machine Gun Company.
Poperinge was the rest camp for those fighting near Ypres. It had a hospital, theatres and pubs.
August 19
Spent day in billets but went about 3 miles to gas demonstration and got soaked in rain. Had orders to go to trenches tomorrow night but these were cancelled later. Poor old Rob was killed today about 5:00 p.m. by shell fire or machine gun up in trenches near Ypres.
August 20
Spent very quiet day in camp and had a service by one of the Brigade chaplains. Did nothing but overhaul the guns.
August 21
Got orders last night to join medium mortar battery for instruction with 30 men and 2 officers. Self and captain Leighton came. I went into the trenches the same night with 8 of the men (near St. Eloi).
Arthur Leighton, a 36-year-old lawyer from Vancouver, was the commander of the 12th Light Trench Mortar Battery. (Service record, Library and Archives Canada.)
St Eloi, officially called Sint-Elooi, is a small village directly south of Ypres.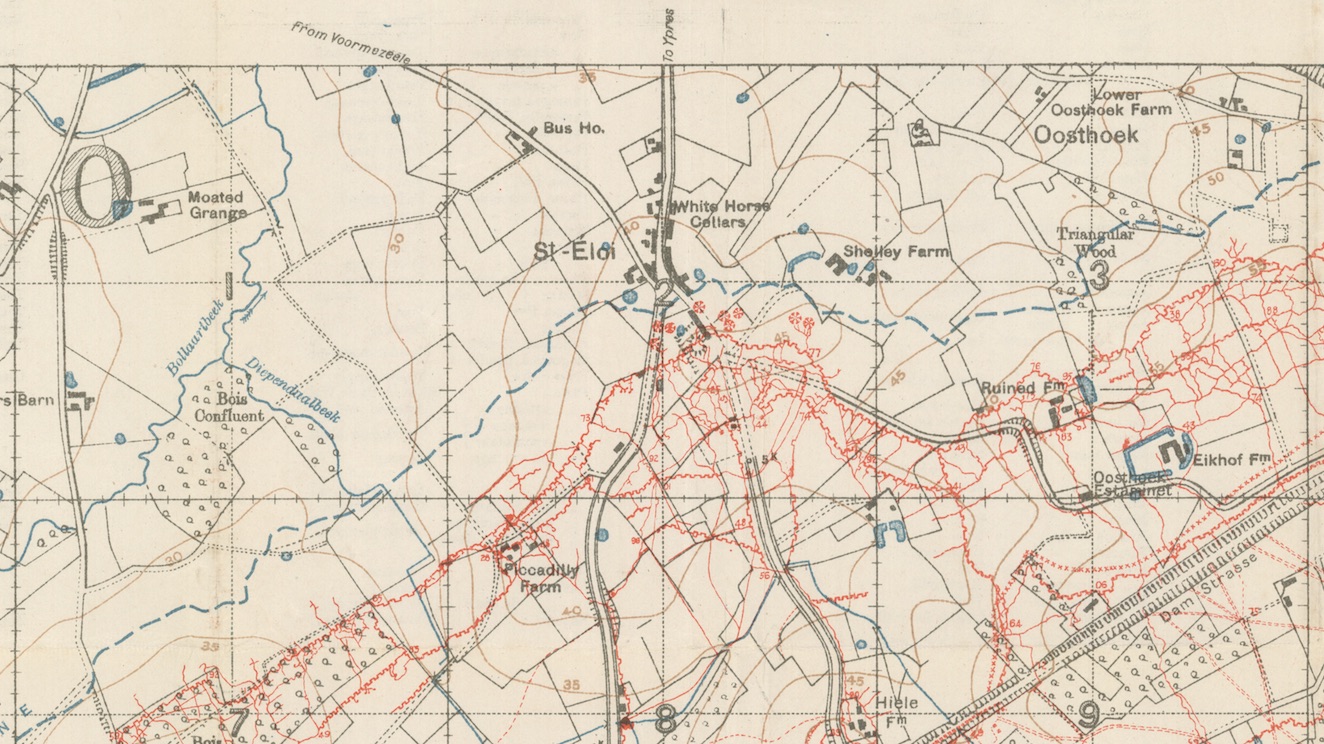 August 22
Spent day in trenches and went all over the battery area: front line, support and reserve (defences consisted of 3 rows of trenches with these names). Heavy shelling by German mortars into the back country. Some came fairly close. A small strafe about 6 p.m. for about half an hour.
The battlefield consisted of three lines of trenches on each side (designated front line, support and reserve) with no man's land in between. No man's land was 100 to 600 yards wide (roughly a practical rifle shot depending on terrain) and there was about the same distance between each of the 3 lines of trenches on each side. The total battlefield was roughly an artillery shot wide, so that artillery on both sides could fire anywhere into the battlefield but were out of range of each other. During the long periods of static warfare, the battlefield was completely empty. Though separated by only a few hundred yards, soldiers on opposing sides would likely not see a single enemy in a whole year of duty unless they were involved in an attack. Most soldiers were underground in dugouts with only a few sentries on the surface. The sight of any soldier or any noise or sign of activity would attract mortar or artillery fire.
August 23
Spent day in trenches. It was very quiet and fine and warm. Very little going on. Came out in the evening leaving at about 6:30 p.m., getting to billets at about 8:00 p.m. Turned in for a sleep very soon after. Got four letters from Kate, one from mother and one from aunt Harriet. Quite a day.
Billets were located at the edge of the battlefield, outside of the area which ordinary German artillery could hit. To target the area around billets, German artillery had to be uncommonly long range or to be sited within the zone which ordinary British artillery could hit.
August 24
Had an easy morning and went into trenches again in the evening. Had been very heavy strafing during the afternoon and parts of our line were flattened out. Went over most of it during the evening. Very warm work crawling over broken up stuff with machine guns active. Weather warm and raining a little.
A good machine gunner could fire in an arc hitting targets behind a mound of earth or a small hill, so it was very dangerous to be outside of a deep trench.
August 25
Morning fine and very hot. Everthing fairly quiet. Had a long walk over the line. Damage very bad. In some places no front line left and had to crawl around behind the parados. (The parados is the mound of earth behind a trench, the parapet is the mound in front of the trench.) Neville left this afternoon leaving me in charge. Everything quiet during the afternoon and evening.
August 26
Strong wind and showers. Everything quiet except a little intermittent shelling which goes on more or less all of the time. Spent morning and most of the afternoon in front line.
August 27
Sunday, everything very quiet on the line. Expected a strafe in afternoon as it is usual Sunday procedure but it did not come off. Was relieved about 5:00 p.m. by Lieutenant Johnson of G.2.L.(?) Battery. Came out to billets.
August 28
Spent day quietly in billets. Received two letters from Kate last night and one today. Wrote several letters myself. Weather fine and warm and blowing hard, but wrong direction for German gas.
August 29
Spent day in billets. Fog and showers most of day. Nothing doing at all. Had a letter from Kate. Gas alarm about 11:00 p.m., evidently a false one. Showering most of the day and quite a thunder storm.
August 30
Raining and fog all day. Remained in billets. Two letters from Katie.
August 31
Fine and warm. Awakened by our antiaircraft guns shelling German plane right over our billets.
September 1
Still in billets and absolutely nothing doing. Fairly fine but showers. Pedley went in to relieve Longworth at X battery.
Pedley and Longworth, Pop's fellow officers in the 12th Light Trench Mortar Battery, are mentioned several times in the diaries.
Hugh Stowell Pedley was a 27-year-old lawyer from Montreal. He would eventually take command of the Battery and receive the Military Cross. Pedley died of wounds on January 31, 1918. (Service record, Library and Archives Canada. Canadian Virtual War Memorial, Veterans Affairs Canada.)
Francis Reginald Longworth was a 25-year-old salesman from Brandon, Manitoba. He returned to Canada for medical reasons in 1917. (Service record, Library and Archives Canada.)
September 2
Went to look over the trenches at Kemmel (town south of Ypres) which we are taking over. Taken over them by Captain Surridge of 56th Imperial Division. Bicycled both ways. Spent most of morning in the trenches. Had two alarms at billets, "gas", one about 11:30 p.m. and one about 2:00 a.m.
September 3
Left for Kemmel. Quite a long march. Used push carts (sleds with bicycle wheels on the front) for the first time. Went into trenches about 2:00 p.m. and took over with Stokes (mortars, Stokes was the name of a British manufacturer of mortars). Everything quiet except a little sniping. One place out about 30 yards between front lines. A little different from snipe shooting. Dugout comfortable and dry. Billets and head quarters very fine. A fine Belgian country house known as the "Shallet" (not sure of spelling).
Since no man's land was about a rifle shot wide, a sniper usually had to crawl forward out of his trench toward the enemy trenches to get a good shot.
September 4
Quite a decent night but a hard bed. Everything quiet this morning. A little shelling and sniping but not much. Rain this afternoon but quiet. Lots of mud.
Pop was sleeping in a dugout (bunker dug underground with walls and roof reinforced with railway ties and corrugated steel). Some of these were very deep, up to 30 feet deep for protection against artillery shells, however, in Flanders they were likely much shallower because of drainage problems.
September 5
Pretty good night except for machine guns and snipers. Raining in morning. Went over our front. Met Captain Leighton and took him around a bit. Everything quiet.
September 6
Last night very heavy shelling by our artillery into enemy back country. Spent most of day in front line. Between 3:00 and 4:00 p.m. our artillery shelled enemy's front line on our right very heavily. No retaliation. Our no. 4 gun fired a couple of shots but infantry objected and we had to stop.
Infantry disliked trench mortars because these guns made a distinctive sound, smoke and flash which attracted enemy retaliation, very often after the mortar crew had moved off to another part of the trench.
September 7
Night very quiet. Our artillery did some shelling. Spent most of day in front line. Enemy very quiet and have not started anything since we have been here except a little shelling but nothing much and a bit of sniping. Captain Leighton was up in the line this afternoon. Men relieved.
September 8
Last night quiet. Gas alert on all night. Our artillery active. At times a lovely night with an almost full moon. Was relieved by Wray about lunch time and, after taking him over the trenches, came back to billets. During the evening there was a gas alarm and we had to stand to. Our artillery opened up in great style and from the trenches heavy machine gun fire and rifle fire lasted almost 1 hour. Our artillery very active all the time. A very devil of a row. Some enemy shells dropped near our billets and we are thinking of retiring to the cellar.
September 9
Lovely morning and all quiet. Had a bath on the front lawn with a couple of pails of water. "September Morn" was not in it. Parcel of chocolate arrived from Katie. Tried to go up to the top of Kemmel but had no pass and could not get up. (Michelin map 236 shows a hill with a panoramic view just south of the town of Kemmel.) Went over to the chateau in the evening to see some of the 78th fellows and also to see the place. It is the only building not hit around here. Moved our sleeping quarters to the cellar tonight and it is very comfortable and much quieter.
September 10
Very good night in the cellar. Went to demonstration of listening machine at Hell's Blast corner. (This was the village of Hallebast, also known as hell and blast. Listening machines were used to locate targets which could not be seen.) Went on a bicycle. Day foggy and very close. Everything very quiet in the morning. Spent a quiet afternoon in billets. Longworth relieved Pedley in the trenches. Comparatively quiet all day. Two letters from Kate and three enclosures of letters from home.
September 11
Quiet day in billets. Evening shelled with high explosive. About 2:00 p.m. Lord Brooke, Colonel Clark and several men were wounded by a shell on the road just outside the Chateau, about 50 yards from our billets. Apart from that everything quiet.
Lord Brooke, a 34-year-old British Army officer, was commander of the 12th Canadian Infantry Brigade. The shell wounded his thigh and hand, but he recovered and survived the war. In 1924, he succeeded his father as the 6th Earl of Warwick but died four years later. (Service record, Library and Archives Canada
John Arthur Clark, a 30-year-old lawyer from Vancouver, was commanding officer of the 72nd Battalion (The Seaforth Highlanders of Canada). The shell wounded his neck, but probably not seriously. He would eventually command the 7th Canadian Infantry Brigade and by the end of the war had been awarded the Distinguished Service Order three times and mentioned in despatches five times. (Service record, Library and Archives Canada
September 12
Morning spent in billets. In afternoon went all over our line and gun emplacements with Captain Leighton, to see if any changes needed. Enemy did a little shelling and our guns were also doing a little, but things fairly quiet. Expect to go to the trenches tomorrow.
September 13
Morning very quiet. Stayed in billets. Came up to trenches about 2:30 p.m. to relieve Wray and went all over our line. Things quiet. Our medium trench mortars - registering- put some stuff pretty close to our front line. Raining most of the day.
Mortars were heavy (4 inch), medium (3 inch) and light (2 inch).
Registering a mortar meant calculating the correct bearing and elevation to hit a target. Registering was either "dry" (theoretical calculation only) or "live". "Live" meant that shots were fired and observed and the gun was adjusted to bring it on target.
Medium mortars were fired from one or two thousand yards behind the front line and a one millimeter adjustment in elevation changed the range by about 200 yards. Gunners had to be careful not to hit their own trenches when they were aiming at the enemy front line. Apparently some test shots came fairly close to Pop (who hated unsafe use of guns).
September 14
Morning fine but cold. Regular Canada September weather. Last night things were pretty quiet. Afternoon and evening showers. Captain Leighton came up and I went with him to Battalion headquarters. Spent rest of the afternoon in trenches. Shelling on both sides fairly active. About 6:30 p.m. enemy dropped some high explosive near our dugout. Also about 9:30 p.m. did quite a lot of work at gun emplacements and bomb store. Moved our guns back at night for the first time. Fired some 20 shots with no.1 gun.
September 15
Weather fine and cool. Spent all day in front line. Our artillery and 2 inch mortars active. Fritz did not reply at all. We used all our guns for registration purposes. Went back to Battalion headquarters after lunch. Evening very quiet. About 9 p.m. very heavy bombardment by our artillery to cover raid on our right.
September 16
Weather fine and cool. Our artillery and 2 inch trench mortars very active this a.m. Very active again this p.m. Artillery dropped some short. Getting ready for a strafe tonight.
September 17
About midnight last night we pulled off a bit of a raid. We covered the raiding party with our guns, also artillery. Things were flying for a bit. We got rid of about 400 shells. Raid a success, two prisoners and none of our men killed, 3 or 4 wounded but not seriously from what I hear. The rest of the day today was very quiet. Nothing doing on either side. Saw a pheasant almost up on the front line today. Our headquarters moved today from Kemmel to Bruloose (village of Brulooze).
Raids were "covered" by friendly artillery and mortar fire. This fire was designed to keep the enemy in their dugouts as the raiders crossed no-man's land. When the raiders approached the barbed wire in front of the enemy front line trench, the friendly gunners were forced to move the barrage on forward towards the enemy support trench for fear of hitting their own men. At this point the enemy, who had been watching the approaching raiders through periscopes, raced up the ladders from their dugouts and the raiders raced toward the enemy trench, cutting through any barbared wire which had survived the barrage. The first ones to reach the parapet won. If they reached the parapet first, the raiders killed and captured as many enemy soldiers as possible and dropped hand grenades down the shafts to the dugouts. During the fight in the trench, a friendly artillery and mortar barrage formed a three-sided box around the portion of enemy trench under attack. This box protected the raiders from local enemy rifle and machine gun fire. As soon as possible, the raiders ran back to their own lines, hopefully before the enemy could rouse their gunners and call down their own artillery barrage in no-man's land.
Barrage fire, from the French word for dam, was a line of bursting artillery shells intended to prevent soldiers from passing, or to kill them when they were forced to pass through it. The other kinds of artillery fire were "strafe" which was random fire over a broad area designed mainly to tire out the enemy and "aimed fire" which was fire at a target.
September 18
Last night pretty quiet. Our artillery was pretty active during the night and kept it up all night, particularly one battery right behind us. Raining hard today but everything quiet this morning. Spent morning in front lines. Had an infantry party carrying ammunition much to their disgust today. Turned fine this p.m. I spent most of it in the front line. Trenches in a devil of a mess after the rain. Expect to be relieved tomorrow sometime.
All movement and transportation forward from billets was on foot, since any roads or vehicles would attract artillery fire.
September 19
Everything pretty quiet. Aeroplane bomb dropped near our front line in no man's land last night. About 11:00 a.m. enemy sent over some trench mortar bombs, one coming quite near me. We replied with our Stokes (mortars). Relieved by Wray at lunch time and came out to billets. Raining and blowing and very cold during the night.
September 20
Slept in pretty late. Still blowing hard and raining. Took the men to La Clyte (probably Michelin Map 236 De Klijte) for a bath and also had a good one myself. Paid a visit to the Machine Gun Company in the afternoon. Captain Horge (?), Drew and Henderson came over in the evening and we played bridge and had a little supper. Heard today that Tom Ekers had been killed. Pete (?) Law and Humphrey wounded.
September 21
Spent very quiet day in billets. Cold but not raining so steadily only in showers. Wrote letters a good part of the time.
September 22
Great sleep last night, about 12 hours. Awakened by one of our heavies being fired quite near our billets and fairly shaking the ground. The Imperials taking over from us arrived today and will relieve our men tomorrow. Day cold but fine. Did practically nothing but read and write letters. A bit of a strafe going on in the lines but did not hear much of it, principally trench mortars on both sides.
September 23
Fine and warm. Our men came out of trenches relieved by the 49th Imperial Brigade Inniskillings. Getting things ready for the move early tomorrow morning. Went for a walk out there (?) this afternoon.